VEHICLE CHARACTERISTICS AND DIMENSIONS (mm)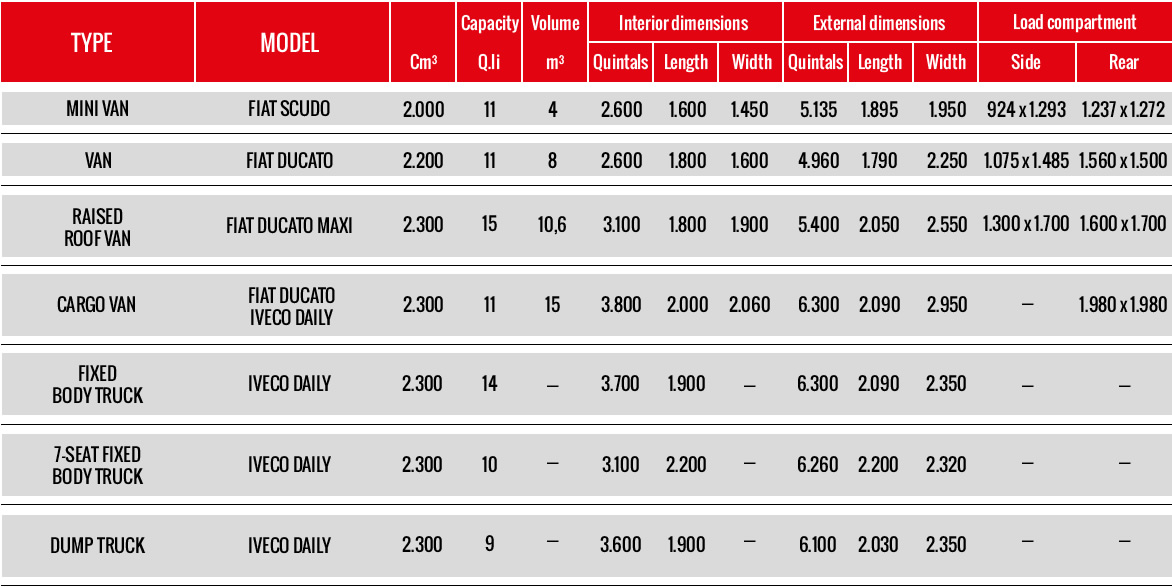 Rental terms and conditions
Minimum age: 21 years;
Driving license held for at least one year;
Late returns: there is a 59 minute grace period for late returns, after which a full-day charge will be applied;
Your rental fee includes the following:
Customer service and ordinary and extraordinary maintenance;
Vehicle recovery charges due to mechanical failure or accident and replacement of the vehicle;
Insurance coverage for civil liability towards third parties for a maximum of € 25,822,844.95, including animals, property, fire, and theft;
Casco insurance for any damages caused to the rented vehicle. A 500.00 + VAT deductible for partial damage coverage will be charged to the customer; under no circumstances will the insurance cover the loss and / or damage of things loaded and / or transported on the rented vehicle.
Green Card insurance to travel in a foreign Country.
Your rental fee does not include the following:
Fuel
Travel violations
VAT
Interior car wash (€ 30.00)
Disposal of packaging material (€ 40.00)
Anything else not specifically mentioned